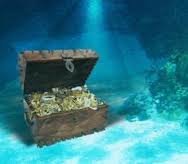 Dave purchased several genuine Spanish Reales from various sunken treasure ships from around the world. Some of these coins, he cast replicas off, and created the unique and mesmerizing Reales Collection. We are still able to offer some of the original coins, which come with certificate of authenticity.
Mermaid with replica Real weighs 12 grams and is available in either 14k Yellow, White or Rose Gold as well as in Sterling Silver.
Our budget friendly newest option is 22K Gold Plated. Why not get the best of both worlds?